Dr. Isabel Stenger
Fachrichtung Mathematik
Campus, Gebäude E2.4
Universität des Saarlandes
66123 Saarbrücken
Germany

Room: 313
Phone: +49 681 302 3802

E-mail: stenger [add @math.uni-sb.de]


About me: I am currently a postdoc in the group of Prof. Dr. Vladimir Lazić. I am a member of the SFB-TRR 195 Symbolic Tools in Mathematics and their Application working on the project Conjectures and new examples in birational geometry. At the moment, I am in parental leave from 09/2020 until 08/2021.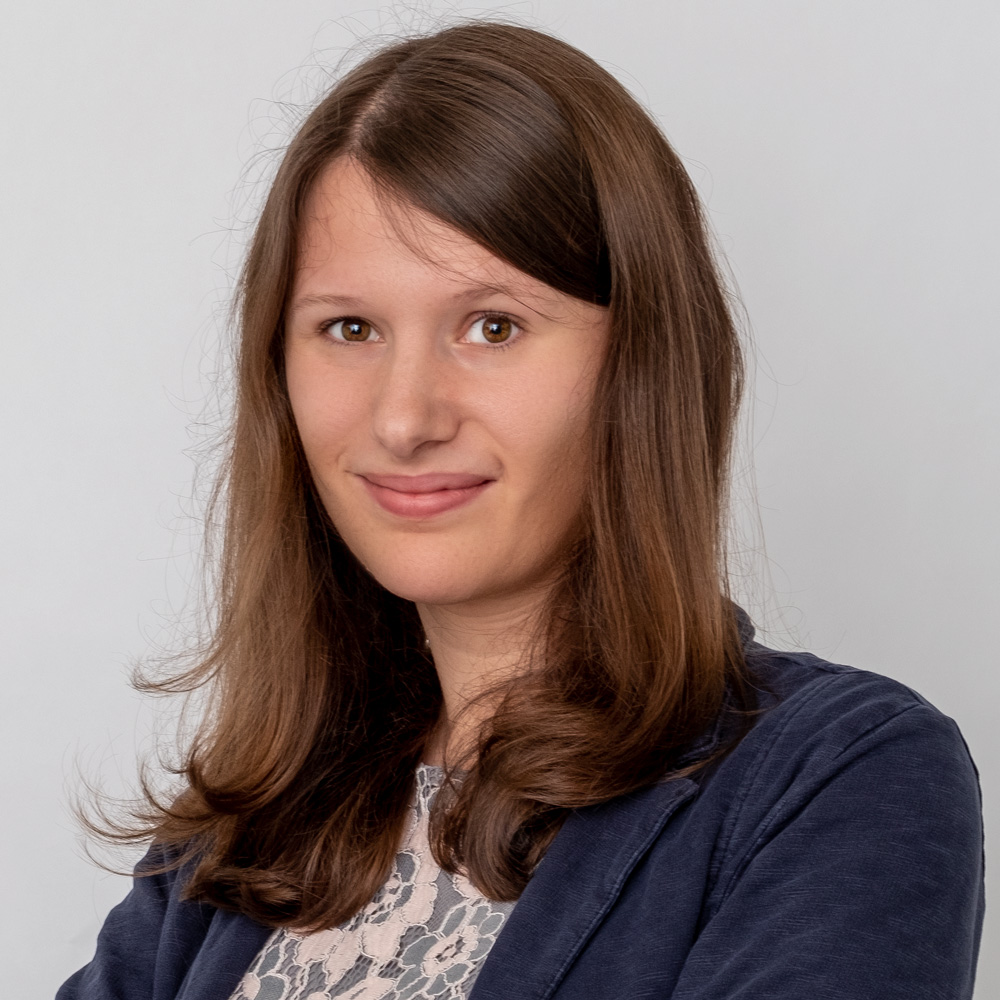 ---
Research Interests
construction and moduli of surfaces
experimental methods in algebraic geometry and commutative algebra
syzygy related construction of algebraic varieties
Education

| | |
| --- | --- |
| 01/2021 - present | Postdoc at the Universität des Saarlandes, Group of Prof. Vladimir Lazić |
| 04/2019 - 12/2020 | Postdoc at the Universität des Saarlandes, Group of Prof. Frank-Olaf Schreyer |
| 12/2018 - 03/2019 | Postdoc at the TU Kaiserslautern |
| 05/2014 - 11/2018 | Ph.D. student at the TU Kaiserslautern |
| 04/2012 - 03/2014 | Master of Science at the TU Kaiserslautern |
| 04/2009 - 03/2012 | Bachelor of Science at the TU Kaiserslautern |
Publications and Preprints
Talks
In conferences
| | |
| --- | --- |
| 12/2019 | Women in Algebra and Symbolic Computations, Bad Dürkheim |
| | Constructing numerical Godeaux surfaces |
| 07/2017 | Open Source Computer Algebra Research (OSCAR) workshop, Max Planck Institute for Mathematics in the Sciences Leipzig |
| | Constructing numerical Godeaux surfaces |
| 09/2017 | Annual meeting of the Collaborative Research Center SFB-TRR 195, RWTH Aachen |
| | Constructing torsion-free numerical Godeaux surfaces |
| 07/2017 | Workshop Après-GAEL, University of Warwick |
| | Computing torsion-free Godeaux surfaces |
| 04/2017 | 3C in G Workshop on Computational Algebra, University of Cambridge |
| | Computing numerical Godeaux surfaces |
| 11/2014 | Number Theory in Kaiserslautern 2014: Number Theory meets Geometry, TU Kaiserslautern |
| | Computing Riemann-Roch spaces - a geometric approach |
In seminars
| | |
| --- | --- |
| 06/2019 | Oberseminar Algebraische Geometrie, Universität des Saarlandes |
| | Constructing numerical Godeaux surfaces |
| 07/2018 | Integrated Research Training Group (IRTG) Seminar of the SFB-TRR 195, TU Kaiserslautern |
| | A homological approach to numerical Godeaux surfaces |
| 03/2018 | Joint IRTG Block Seminar on Combinatorial Commutative Algebra, Bingen |
| | Plücker coordinates |
| 11/2017 | Oberseminar Algebraische Geometrie, Leibniz Universität Hannover |
| | Constructing torsion-free numerical Godeaux surfaces |
| 07/2017 | COW Seminar, University of Warwick |
| | Constructing torsion-free Godeaux surfaces |
| 05/2016 | Seminar Moduli of Curves, Universität des Saarlandes |
| | Moduli of algebraic surfaces |
Conferences, Schools and Workshops
| | |
| --- | --- |
| 12/2019 | Women in Algebra and Symbolic Computations, Bad Dürkheim |
| 09/2019 | Macaulay2-workshop, Universität des Saarlandes |
| 09/2019 | Annual meeting of the SFB-TRR 195, Universität des Saarlandes (co-organizer) |
| 04/2019 | Workshop: Higher Dimensional Complex Geometry, Universität des Saarlandes |
| 12/2018 | Enumeration and moduli, University of Oslo |
| 03/2018 | Joint IRTG Block Seminar on Combinatorial Commutative Algebra, Bingen (co-organizer) |
| 12/2017 | Workshop Open Source Computer Algebra Research (OSCAR), MPI MiS Leipzig |
| 09/2017 | Annual meeting of the SFB-TRR 195, RWTH Aachen |
| 07/2017 | The Prospects for Commutative Algebra, Osaka |
| 07/2017 | Workshop Après-GAEL, University of Warwick |
| 04/2017 | 3C in G Workshop on Computational Algebra, University of Cambridge |
| 10/2016 | Annual meeting of the DFG Priority Project "Algorithmic and Experimental Methods in Algebra, Geometry and Number Theory", TU Kaiserslautern |
| 02/2016 | School Moduli of Curves, Guanajuato |
| 07/2015 | AMS Summer Research Institute on Algebraic Geometry, Salt Lake City |
| 07/2015 | Theory and applications of syzygies, Universität des Saarlandes |
| 06/2015 | School Rationality Problems in Algebraic Geometry, Levico Terme |
| 03/2015 | Algebraic Geometry, Conference on the occasion of Fabrizio Catenese's 65th birthday, Bayreuth |
Teaching
| | |
| --- | --- |
| Winter 2016/17 | Teaching Assistant for Algebraic Geometry, TU Kaiserslautern |
| | Tutorial for Grundlagen der Mathematik I, TU Kaiserslautern |
| Winter 2015/16 | Teaching Assistant for Grundlagen der Mathematik II, TU Kaiserslautern |
| Summer 2015 | Teaching Assistant and Singular-tutorials for Introduction to symbolic computation, TU Kaiserslautern |
| Winter 2014/15 | Teaching Assistant for Einführung in die Algebra, TU Kaiserslautern |
| Summer 2014 | Teaching Assistant for Algebraische Strukturen, TU Kaiserslautern |
| Summer 2012 | Tutorials for Elementare Zahlentheorie, TU Kaiserslautern |
| Summer 2011 | Tutorials for Elementare Zahlentheorie, TU Kaiserslautern |
Macaulay2-Files
| | | |
| --- | --- | --- |
| | | Construction method for numerical Godeaux surfaces |
| | | Ancillary file to On the numerical dimension of Calabi-Yau 3-folds of Picard number 2 |
Other Activities
| | |
| --- | --- |
| 2014, 2016, 2018 | Workshops for high-school students, Tag der Mathematik, TU Kaiserslautern |