Prof. Dr. Moritz Weber

(Juniorprofessor for Free Probability)


Saarland University
Faculty of Mathematics
Postbox 151150
D-66041 Saarbruecken
Germany

room 310 (building E 2 4)
phone: +49-681-302-2556
mail: weber [at] math.uni-sb.de
office hours: by prior arrangement

Secretary: Karin Mißler
room 418, phone +49-681-302-3432

Supported by:

and






Some members of the group Weber, September 2017 (on Corsica):
Simeng Wang (AG Speicher), Felix Leid (AG Speicher),
Simon Schmidt, Andreas Widenka, Daniel Gromada,
Stefan Jung, Moritz Weber.
Publications and research interest
PI in the
SFB-TRR 195 Symbolic Tools in Mathematics and their Applications
PhD students and supervision of graduation theses
Third party funding
Distinctions and awards
Preparatory math courses for refugees for studies in MINT-subjects
Teaching
Conferences
CV (PDf file)
My articles on
Google Scholar
My articles on
Math Sci Net
My articles on
arXiv
News
The mobility support for the project
Quantum groups and quantum probability
has been
approved by the
DAAD/Procope
for 2019-2020 - Thank you very much!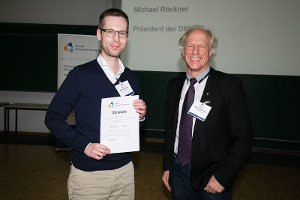 Alexander Mang receives an award (8 week stay at the Max Planck Institute for Mathematics in Bonn)
at the students conference of the DMV (German Mathematical Society), 4-5 March 2018 in Paderborn
for his talk on his Bachelor's thesis
Neutral pair partition categories
, written under my supervision.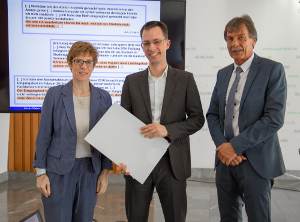 I am very happy having received the
Landespreis Hochschullehre 2016
(federal state teaching award) awarded
by the first minister of Saarland for the
preparatory math courses for refugees for studies in MINT-subjects
!
Publications
To the
list of publications
PhD students and supervision of graduate theses
Laura Maaßen - PhD student, second supervisor, together with Gerhard Hiß, RWTH Aachen, since fall 2017
Stefan Jung - PhD student, since Dec 2015
Simon Schmidt - PhD student, since July 2017
Daniel Gromada - PhD student, since July 2017
Vincent Preiß - Master's student, since 2018
Alexander Mang - Masters's student, since 2018
Friedrich Günther - Bachelor's student, since 2018
Luca Junk - Bachelor's student, since 2018
Mirko Stappert - Bachelor's student, since 2018
Alexander Wendel - Bachelor's student, since 2018
Julien Schanz - Bachelor's student, since 2018
Andreas Widenka - Master's student, since 2017
Martin Michajlow - Bachelor's thesis, 2018
Mang Zhao - Bachelor's thesis, 2018
see also arXiv

Alexander Mang - Bachelor's thesis, 2017
awarded on the student's conference of the annual meeting of the German Mathematical Society
see also arXiv

Julien Sazadaly - Master's thesis Memoir M2, Paris Diderot/Paris VII, 2017
Simon Schmidt - Master's thesis 2016/2017
published in Can. Math. Bull., see also arXiv
Ricardo Schnur - Master's thesis, 2016/2017
Andrei Miu - Master's thesis Memoir M2, Paris Diderot/Paris VII, 2015
Jonas Wahl - Master's thesis 2014 in joint supervision with Roland Speicher
published in Ill. J. Math., see also arXiv
Dominik Urig - Bachelor's thesis, 2014, joint supervision with Roland Speicher
Peter Schuhmacher - Bachlor's thesis, 2014, joint supervision with Roland Speicher
Stefan Jung - Bachelor's thesis, 2014
Pascal Bauer - Bachelor's thesis, 2013, joint supervision with Roland Speicher
Running third party funding
Distinctions and awards
Teaching
Winter term 2018/2019
Reading seminar on quantum groups and Hopf algebras
22nd Internetseminar on Ergodic Theorems
Summer term 2018
Operator algebras (Functional analysis II)
Bachelor plus MINT (3 July)
Winter term 2017/2018
Functional analysis
Students seminar on The Millenium Prize Problems
Summer term 2017
Students seminar on operators on Hilbert spaces
Summer term 2016
Analysis II
Reading seminar on quantum groups
Preparatory math courses for refugees for studies in MINT subjects
Winter term 2015/2016
Operator algebras (Functional analysis II)
(Lecturer)
Preparatory math courses for refugees for studies in MINT subjects
(Lecturer, Coordinator)
Summer term 2015
(Real) Analysis I
(Lecturer) (this term's best teaching award from the students of faculty)
Seminar on operator algebras and free probability
(Lecturer, together with Roland Speicher)
Summer term 2014
Operator algebras
(Lecturer, together with Roland Speicher)
Winter term 2013/2014
Functional analysis
(Lecturer) (this term's best teaching award from the students of the faculty)
Seminar on operators on Hilbert spaces
(Assistant)
Summer term 2013
Operator algebras
(Assistant)
Seminar on von Neumann algebras
(Assistant)
Winter term 2012/2013
Mathematics for biologists and chemists
(Lecturer)
Functional analysis
(Assistant)
Seminar on free probability theory
(Assistant)
Summer term 2012
C*-algebras and K-theory
(Lecturer)
Random matrices
(Assistant)
Winter term 2011/2012
C*-algebras
(Lecturer)
Summer term 2011
(Real) analysis II
(Assistant)
Seminar on von Neumann algebras
(Assistant)
Winter term 2010/2011
(Real) analysis I
(Assistant)
Conferences
2020
2019
2018
2017
2016
Analytic versus Combinatorial in Free Probability
BIRS workshop
Banff, Canada
December 4 - December 9, 2016
Talk: Quantum groups versus combinatorics in free probability Video of the talk

Compact Quantum Groups
Satellite event of the 7th European Congress of Mathematics (July 18 - 22, 2016, Berlin, Germany)
Alfried Krupp Wissenschaftskolleg Greifswald, Germany
July 11 - 15, 2016
Organizer, together with Uwe Franz, Malte Gerhold and Adam Skalski

Quantum groups: geometry, representations, and beyond
Oslo, Norway
May 9 - 13, 2016
Talk: Quantum groups with partial commutation relations

Micro workshop on SU_q(3)
Saarbrücken
Jan 18 - 22, 2016
Organizer
2015
Analysis seminar
Wroclaw, Poland
October 15, 2015
Seminar talk: From Woronowicz's Tannaka-Krein result to examples of combinatorial quantum groups

Noncommutative Geometry seminar
IMPAN, Warsawa, Poland
October 12, 2015
Seminar talk: From Woronowicz's Tannaka-Krein result to examples of combinatorial quantum groups

Operator algebras seminar
KU Leuven, Belgium
October 2, 2015
Seminar talk: From combinatorics to (easy) quantum groups and more

George Boole Mathematical Sciences Conference
Theme 8: Quantum Probabilistic Symmetries & Quantized Boolean Algebras
Cork, Ireland
August 17 - 28, 2015
Talk: Unitary easy quantum groups

Quantum Groups and Quantum Information Theory
Workshop funded by the Fields Institute, the London Mathematical Society, the ERC Advanced
Grant held by Roland Speicher, and the ERC Starting grant held by Matthias Christandl
(see also page 15 and 16 in the Fields report)
Herstmonceux, UK
July 13 - 17, 2015
Organizer, together with Benoit Collins, James Mingo, Ashley Montanaro and Maria Grazia Viola

Oberwolfach Workshop 1524 Free Probability
Oberwolfach, Germany
June 7 - 13, 2015


Analysis seminar
Aberdeen, UK
March 30, 2015
Seminar talk: Quantum groups meet free probability

Analysis and probability seminar
Lancaster, UK
March 25, 2015
Seminar talk: Quantum groups meet free probability

Mathematical physics seminar
Cardiff, UK
March 19, 2015
Seminar talk: Quantum groups meet free probability

Algebraic and Analytic Aspects of Quantum Levy Processes
(see also here)
Alfried Krupp Wissenschaftskolleg Greifswald, Germany
March 9 - 13, 2015
Talk: Easy quantum groups go unitary - how combinatorics provides an easy access to quantum groups

Analysis seminar
Glasgow, UK
March 4, 2015
Seminar talk: Quantum groups meet free probability

Lecture series on (easy) quantum groups
Lecturer for eight lectures on quantum groups
IMSc Chennai, India
January 5 - 24, 2015
Playlist of the lectures on YouTube
Lecture Notes of the Chennai lectures (published in 2017)
2014
2013
Masterclass on Free Probability and Operator Algebras
Münster, Germany
September 2 - 6, 2013
Organizer, together with Nicolai Stammeier
Lecture: Easy quantum groups

Focus Program on Noncommutative Distributions in Free Probability Theory
Focus program by the Fields Institute, Toronto, Canada
July 2013
Talk: Partitions and quantum groups
see also the video archive of the Fields Institute
Lecture (in the inter-workshop program): Quantum groups and their relation with free probability
see also the video archive of the Fields Institute

Operator algebras seminar
KU Leuven, Belgium
March 15, 2013
Seminar talk: Easy quantum groups - a combinatorial class of quantum groups

PLLUS Workshop
Meeting of the probability groups of four universities:
Technische Universität Kaiserslautern, University of Luxembourg,
Universite de Lorraine, Universität des Saarlandes
third edition held in Saarbrücken
Febr 21 - 22, 2013
Local organizer, together with Roland Speicher
2012
Arbre de Noel
Annual Christmas Conference of the Non-Commutative Geometry GDR
Universite de Lorraine, Metz, France
December 6 - 8, 2012
Talk: Easy quantum groups - a combinatorial class of quantum groups

Séminaire d'analyse fonctionelle
Besançon, France
27 November, 2012
Seminar talk: Easy quantum groups - a combinatorial class of quantum groups

Oberwolfach Workshop 1244
C*-Algebras, Dynamics, and Classification
Oberwolfach, Germany
October 28 - November 3, 2012
Talk: The classification of easy quantum groups is difficult

Minisymposium on Free Probability and Random Matrices
(part of the DMV Annual Meeting 2012)
Annual Meeting of the German Mathematical Society
Saarbrücken, Germany
September 17 - 20, 2012
Local organizer, together with Roland Speicher
Talk (Section Functional analysis): C*-algebras generated by isometries with twisted commutation relations

Canadian Operator Symposium 2012
Conference at Queen's University, Kingston, Canada
May 21 - 25, 2012
Talk: C*-algebras generated by isometries with twisted commutation relations

Masterclass on quantum groups
University of Copenhagen
March 5 - 9, 2012
Talk: On the classification of easy quantum groups

PLLUS Workshop
Meeting of the probability groups of four universities:
Technische Universität Kaiserslautern, University of Luxembourg,
University Nancy 1, Universität des Saarlandes
second edition held in Luxemburg
March 1 - 2, 2012
2011
Non-commutative harmonic analysis
14th Workshop at Bedlewo, Poland
Sept 25 - Oct 1, 2011
Talk: Easy quantum groups (joint with Roland Speicher)

PLLUS Workshop
Meeting of the probability groups of four universities:
Technische Universität Kaiserslautern, University of Luxembourg,
University Nancy 1, Universität des Saarlandes
first edition held in Kaiserslautern
Febr 10 - 11, 2011

Bialgebras in Free Probability
Program at Erwin Schrödinger Institute, Vienna
Febr 1 - Apr 22, 2011
2010
2009
---